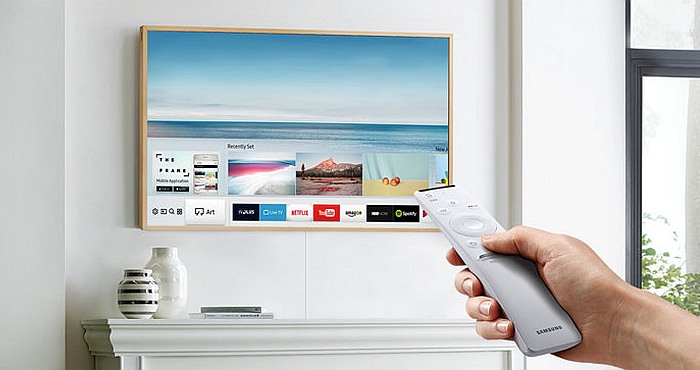 Is Samsung's latest new smart TV an actual television, or a work of art? Well, some would say both! The new television is called a lifestyle TV and is made to closely resemble other pictures framed and hanging on your wall. In fact, it is actually quite a feat just to figure out which is which, unless you are either really close or know what you are looking for. This is not just any smart TV. It is affectively different from any other television that Samsung, or any other brand for that matter, has ever come up with. It goes even further with its one-of-a-kind features and in lieu of a model number, this piece is simply called The Frame.
This new television takes the worry out of having to decide whether you want to sacrifice space for a really nice TV. As it hangs on the wall, along with your other beautiful pieces, you will lose no functional space at all, while the TV adds to the presence of whatever room it happens to be in. With a special mount that allows it to hand flush against your wall, it also comes with an almost transparent cable with which to hook up other components. No more maze of wires protruding from the bottom or side of your box. With this television, invisibility truly is the rule of the day.
When you are not watching your favorite programs on the lifestyle TV, all you need to do is switch it to art mode, where you will have more than 100 different pieces of art from which to choose. Without this function, it would be rather easy to determine which was the television and which was the art, thus losing the individuality of this piece all together.
While it has yet to be decided whether or not this television will be made available for purchase, the projected price is expected to be between $2000 and $5000.
Some great perks that come along with this television, and what makes us hope that we do have the option to purchase it in the near future include the fact that it has the highest color setting and yet is not at all affected by the lighting in the room. You can even choose to control the television by downloading an app to your smart phone, which turns your smart phone into a literal remote control.